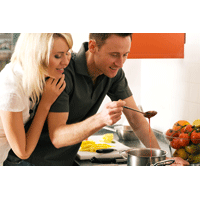 Private Cooking Lesson for 4
Discover the art of culinary perfection with a private cooking class in the comfort of your home. Learn how to cook up a storm in the company of friends or colleagues and have lots of fun along the way. Watch in awe as a professional chef creates delicious dishes, talking you through every step before you roll up your sleeves and put your new knowledge into practice. You'll be taken through each stage, from meal preparation to cooking tips, and have the chance to ask all those questions you've always wanted to ask. And after all the cooking is done, you get to enjoy the delicious fruits of your hard work while your kitchen is cleaned to perfection. Specific dietary requirements will be taken into account by your chef when planning your cooking lesson.

Due to the unique nature of our experiences, many activities have limited availability and high demand. We suggest that you schedule your activity at the earliest possible opportunity. Please do not make travel arrangements until Great American Days has confirmed your date of attendance and taken your voucher number and contact details. Scheduling: You must schedule your activity with Great American Days in advance. Do not arrive at the site with your Great American Days Voucher without a confirmed appointment. You will be subject to the terms and conditions including those for rescheduling, cancellation and 'no-shows'. You may be required to sign an indemnity and release forms so you should bring valid ID such as a driving license with you to your event. If you are under 18 years of age, the signature of your parent or guardian will be required. Vendors also require compliance with other conditions such as, but not restricted to conduct, and failure to meet these may be result in you being removed from the premises.